awansan.com – Pasca memeperkenalkan dua truk baru di GIIAS kemarin , nampaknya PT Hyundai Oto Komersial Indonesia sudah mulai gatal mengeluarkan produk baru, kabar yang berhembus nih bahwasannya ATPM Hyundai Truck dan Bus di Indonesia ini berencana akan memasukkan dua jenis Bus di Indonesia yaitu Light Bus Hyundai H350 dan Big Bus Hyundai Universe .
Menurut awansan hal ini merupakan suatu langkah yang berani, karena kedua produk tersebut menyasar segmen luxury bus, yang notabene sudah dikuasai merk merk besar dari benua Eropa seperti Mercedes -Benz, Scania, Volvo dan MAN. Dan konsumen di kelas ini pun tentunya mempunyai standar yang cukup tinggi untuk luxury bus mereka, hmm nampaknya pasar chasis bus dalam negeri akan semakin panas persaingannya, okee yuk lanjut kita bahas satu satu 😀 .
LIGHT VAN HYUNDAI H350
Produk pertama adalah Hyundai H350, light van ini pertama kali dikenalkan pada ajang Hanover Motor Show pada tahun 2014 lalu, Modelnya Boxy sehingga menawarkan kelegaan ruang untuk 13 seat penumpang.
Hyundai H350 yang ditujukan untuk segmen untuk travel dan pariwisata. Hyundai H350 ditenagai oleh mesin diesel 2500 cc yang mampu mengeluarkan tenaga maksimal 170 ps dan torsi maksimal 373 nm yang awb rasa sangat bertenaga 😀 .
di Indonesia lawan mainnya jelass Mercedes Benz Sprinter, tapi kalau Hyundai pandai memainkan harga bukan tidak mungkin produk ini akan cukup laris, bisa ngrecokin pasar pasar dibawahnya seperti Isuzu Elf atau Mitsubishi L300 😆 .
SPESIFIKASI HYUNDAI H350
MODEL
H350 BUS
Seating Capacity
13+1 Seater
Engine
A2 – Euro 5
Type
A2 2.5L, 4 stroke-cycle, water-cooled, direct-injection diesel engine
Displacement
2497cc
Max. Power
170 ps @ 3,300 rpm
Max. Torque
43 kg-m @ 1,750 rpm
Turbocharger
WGT, Intercooler
Air Filter
Dry Paper type
Fuel Tank Capacity
75 L, Plastic
Performance (calculated)
Max. Speed
156 kph
Gradeability (tanQ) %
58.4 (FGR: 3.917)
Transmission
Model
T045S6 6-Speed MT
TGS
Dashboard Shift, Mechanical remote control
Chassis
Frame
U-type Longitudinal Side frame with cross members
Steering
4-Spoke, Rack & Pinion Type, Tilt & Telescopic steering column
Suspension
Front
McPherson Strut type Independent Suspension with transverse leaf
Rear
Rigid-type (parabolic leaf spring)
Shock Absorber
Twin-tube Gas charged type on the front & rear
Brakes
Service Brake
Hydraulic with vacuum servo assistance, dual circuit with Pad auto adjuster and Disc pad indicator (electric)
Parking Brake
Internal expanding type at the rear wheel (DIH : Drum In Hat)
Tire
235/65 R16C – 8PR
Wheel
16 x 6.5J Alloy
Weight
Curb Weight
kg
2,662
GVW
kg
4,100
Dimensions
Wheelbase
mm
3,670
Overall
Length
mm
6,195
Width
mm
2,038 (2,436 with mirrors)
Height
mm
2,665 (Roof panel), 2,673 (Hatch), 2,856 (A/con)
Overhang
Front
mm
990
Rear
mm
1,535
Min. Ground Clearance
185
Exterior
Body type
Monocoque type
Windshield Glass
One piece type with laminated safety glass
Windshield Wipers
Electric three-speed (intermittent / low / fast) wipers & washer
Outside rear view mirror
Heated / electrically operated with Side repeater
Side glass
Side Rear End Swivel Glass
Rear glass
One piece type with tempered glass
Bumper
Frt/Rr
Black Colored Bumper
Door
Front Door
Manual swing type
Mid Door
Side Sliding Door (Manual Type)
Rear Door
Manual Twin Swing Door (180˚)
Head lamps
MFR-type + DRL + H/lamp leveling device
Combination Lamps
Front
Turn signal / Hazard-Amber, Position – White
Rear
Turn signal / Hazard-Amber, Tail / Stop – Red
Interior
Driver's Seat
Sliding, Reclining, Height Adjustable, Headrest + Armrest
Assistant's Seat
Sliding, Reclining, Headrest
Passenger's Seat
Reclining, Headrest, Seat Back Handle, Seat back pocket
Seat Material
Simulated Leather
Sunvisor
Driver: Folding Type with Shelves
Roof Covering
HS felt + Non-woven felt
Side Material
UPR: Plastic, LWR: HDF
Floor Covering
Linoleum mat
Instrument Meter
Speedometer with odometer & trip counter / Combined meter including fuel
& water temperature gauges
Power Features
Central Door Locking, Power Windows (Front)
Electric Power Step
with (Mid Door)
Audio System
M300 (Radio + USB (MP3)), Roof Speaker (Passenger)
Airconditioning System
Manual Type Heater Control with Roof In A/C
Safety & Security
Airbag
Driver Airbag
A.B.S.
with (Anti-lock Braking System)
V.D.C. (Vehicle Dynamic Control)
with
Seatbelts
Driver: with Pretensioner Seatbelt
Keyless Entry with Alarm
with
Tacograph
Digital
Rear Parking Assist
with
BIG BUS HYUNDAI UNIVERSE
Produk kedua yang akan masuk adalah Hyundai Universe. Well Hyundai universe sendiri merupakan Top Of The Line dari Big Bus produksi Hyundai. sebagai top of the line tentunya Hyundai sudah membekali bus ini dengan seabrek fitur agar dapat bersaing dengan kompetitornya, bukan hanya fitur ABS, ASR dan Retarder saja, tapi bahkan fitur autogrease lubrication, untuk melumasi bagian bagian tertentu dari bus secara otomatis.
Hyundai Universe dibekekali dengan mesin diesel turbo intercooler berkpasitas 12.300 cc, dengan muntahan tenaga hingga 380 ps @1900 rpm, dan torsi maksimal 1480 nm @1200 rpm, yang menurut awb sudah lebih dari cukup untuk bus ini. namun belum jelas apakah besok bus ini akan dirakit secara CKD seperti jaman Korindo dulu, atau hanya mau measukkan chasisnya saja kemudian dikaroseri disini 😀 .
Berkaca dari kasus korindo , nampaknya Hyundai punya PR besar untuk memasukkan produk yang mempunyai durabilitas tinggi sesuai dengan kebiasaan orang indonesia, selain itu ketersediaan dan kemudahan untuk memperoleh suku cadang juga harus diperhatikan, tanpa dua faktor tersebut maka nampaknya Hyundai Truck dan Bus Indonesia akan sulit bertahan dan berkembang di negeri ini.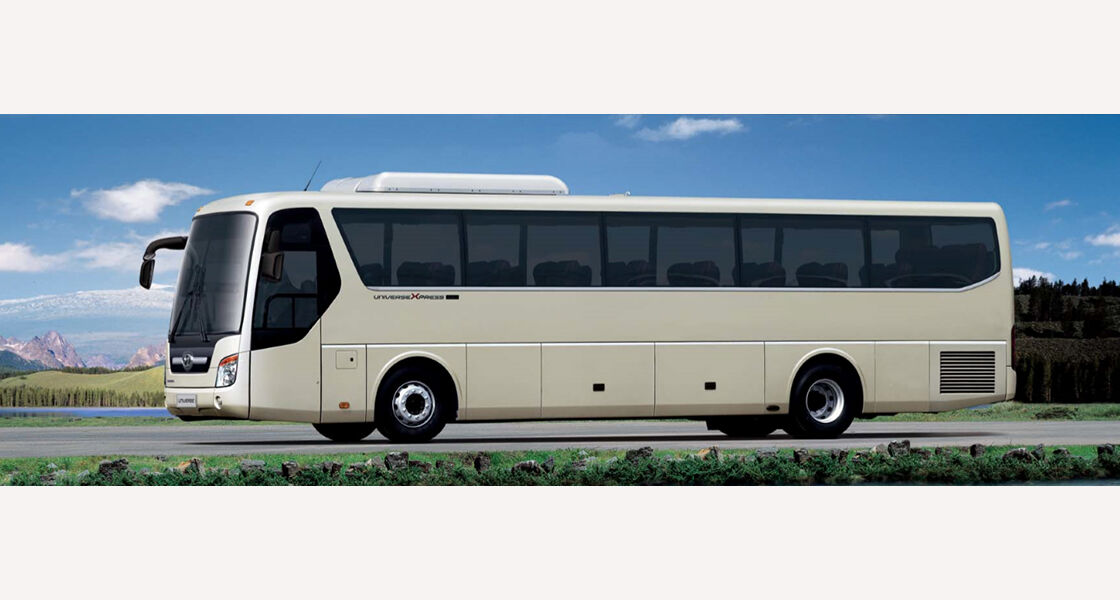 SPESIFIKASI HYUNDAI UNIVERSE
Seating Capacity
49+1 Seater
Engine
D6CC EURO-4
Type
6 in-line, Electronic Diesel
Displacement
12,300cc
Max. Power
380 ps @ 1,900 rpm
Max. Torque
148 kg-m @ 1,200 rpm
Turbocharger
Turbo Charger Intercooler
Air Filter
dry paper element
Fuel Tank Capacity, L
310 L
Performance (calculated)
Turning Radius, m
10.1
Gradeability (tanQ) %
45
Clutch
Type
Hydraulic control with air assisted, Single dry plate
Facing Material
Non-Asbestos
Transmission
Model
M12S5-R
Type
5 foreward & 1 reverse
Electrical System
Battery
24V-200AH
Alternator
24V-180A
Starter
24V-6.0KW
Chassis
Frame type
Monocoque
Main Section
Front (HxWxt)
180 x 90 x 3.2 t
Rear (HxWxt)
200 x 80 x 4.5 t
Steering
Ball-nut type with integral hydraulic power booster, tilt & telescopic
Suspension (Front/Rear)
air suspension
Shock Absorber
Hydraulic double acting telescopic type on axles
Brakes
Service Brake
Full air, dual circuit, fixed 'S' cam with spring loaded chambers
Parking Brake
Spring loaded type parking brake on the rear wheels
Tire
11R22.5-16PR
Axle
Front
Reverse Elliot type " I " beam
Capacity (kg)
7,000
Rear
Full Floating Type
Capacity (kg)
11,500
Weight
Empty Weight (kg)
11,975
GVW (kg)
18,500
Dimensions
Wheelbase
mm
5,850
Overall
Length
mm
11,780
Width
mm
2,495
Height
mm
3,340
Overhang
Front
mm
2,690
Rear
mm
3,240
Min. Ground Clearance
200
Exterior
Body type
Monocoque
Windshield Glass
Two pieces type with laminated safety glass
Windshield Wipers
Electric high & low speed, wiper with intermittent relay and washers operated electrically
Outside rear view mirror
Deluxe type on both sides
Side glass
Full fixed type with tempered glass
Rear glass
One section type with tempered glass
Wheel cover
with
Bumper
SMC (sheet moulding compound)
Door
Front
Auto Swing
Head lamps
MFR type
Fog Lamp
with
Combination Lamps
Front
Turn signal/Hazard-Amber, Position-White
Rear
Turn signal/Hazard-Amber, Tail/Stop-Red
Interior
Driver's Seat
Adjustable up & down, fore-and-after reclining seat formed polyuretane cushion, covered with vinyl
Passenger's Seat
Steel tube framing reclining type with vinyl leather covering
Sunvisor
Roll curtain type, left hand side above windshield glass
Shelves
Type
Board type
Floor Covering
Linoleum mat
Room Lamp
Fluorescent
Reading Lamp
with
Clock
Analogue
Instrument Meter
Speedometer with Odometer
Tachometer
Electronic Type
Digital Tachograph
with
Audio System
Radio
Curtain Rail
with
Airconditioning System
Roof In A/C
Luggage Compartment
with
Safety
Seatbelts
3-Point ELR (Driver)
Speed Limiter -100km/h
with
ABS +ASR
with
Auto grease lubrication
with